REMOS GXNXT – The Perfect Light Sport.
REMOS GXNXT or (GXnXES in USA) – Is one of the best Light Sport aircraft ever produced in the world. It is the most technically advanced and easy to fly Light sport aircraft which has all the bells and whistles that would make even an airline pilot envious. It has better flight performance than most other light sport aircraft and even some smaller Cessnas and Pipers.
The design is highly aerodynamic and ergonomic with a very light but strong airframe. The controls and instrumentation are well designed and advanced. The cockpit is wider than most Light Sport aircraft with better leg, head and shoulder space and is even bigger than a Cessna 152.
The Dynon and Garmin flight instruments and displays are perfectly located in the cockpit to provide you with the best display of the flight situation, navigation and airspace management, with weather uplink and traffic awareness. It is simple, easy and low cost to operate. The short Take off and landing makes it ideal to operate from your local grass strip or field. The wings can be folded back or readied for flight in less than 20 minutes. You can also have a BRS parachute for the entire airplane to increase safety.
The Rotax 912 ULS power planet has been carefully selected and designed to suit the Remos GX. The high RPM engine operates smoothly and efficiently with low operating costs. It is music to a pilots ears to listen to the hum of this well designed, "bullet proof" engine.
If you are looking for the best Light Sport,look no further, it is the Remos GXNXT, hands down!!
---
Performance
(*Refer POH for aircraft data)
| | | | |
| --- | --- | --- | --- |
| Cruise speed | 130 mph @ 5,400 rpm | Take Off Roll Distance | 272 ft |
| Maximum speed | 137 mph | Take Off Distance | 394 ft |
| Stall speed Full Flaps | 44 mph | Landing Distance | 610 ft |
| Stall speed No Flaps | 51 mph | Loading | +4 G's, -2 G's |
| Rate of climb | 1,280 fpm | Maximum Range | 550 sm / 480 nm |
| Glide ratio | 10:1 | Maximum Endurance | 6.5 hrs @ 4,200 rpm |
| Powerplant | Rotax 912 U L-S, 100 hp | Fuel Consumption | 3.5 gph @ 4,200 rpm |
---
Please give us a call, 855-LSA-West( 855-572 9378) and we can get you set up on a demonstration flight.
---
Premium Class
Stable, agile, maneuverable, simple and efficient
The REMOS GX with its short take off ( less than 300ft) and landing capabilities with high rate of climb features and highly responsive controls provides excellent agility and maneuverability. The majority of the aircraft material that makes up the airframe ie. fuselage, wing and tail is aviation grade carbon fiber. As a result the airframe, is very stiff, strong and light, and the exterior surfaces are remarkably smooth with premium finish. The airframe is so strong that it has G loading of +4 and -2 G's. The aerodynamic design is a creation of engineering-art with high integrity and performance , giving it a 10:1 glide ratio.
The high thrust to weight ratio with the Rotax 912ULS engine allows rapid acceleration to cruise. It is is a delight to cruise in the REMOS GX  at 120+ kts .The airplane is so stable at the same time maneuverable that even at top speeds it can be trimmed off to fly "hands off", with no buffeting vibrations are oscillations.It has been designed to perfectly suit the needs of both novice and experience pilots. It is a pure joy to fly this aircraft. It has a 6.5 hour flight endurance and Range of approx 500 NM. All this at 3.5 Gal/hours fuel consumption!!! The Remos GX is the most spacious and comfortable Light sport available in the market.
Absolutely High-end Equipment
The Remos GX is equipped with the ROTAX 912ULS engine with 74 kW / 100 HP,  along with the NEUFORM 3-blade composite propeller ,with plush and comfortable interiors, four point harness and easy-fold composite wings. The leather interior is designed with luxury taste and sporty design.
The avionics are  top of the market, placed ideally for best cockpit display. It has the DYNON SkyView 7″ screen, combined with EFIS/EMS with transponder, the new 8,33 kHz  Garmin radio, GMA240 intercom and Garmin 500 GPS are included in the standard configuration. We can further customize the aircraft and cockpit for your needs with dual screen display on a second SkyView 7″ screen in the right panel, NAV/COM, full audio-panel,  marker antenna,  bluetooth, high-end GPS Flymap, GARMIN 695/696 ,Auto-pilot, leather interior with  premium decor options. With full panel options the NXT has an empty weight of 718 pounds and a useful load capability of 602 pounds or 470 pounds with full fuel, the best in the LSA world. The aerodynamic wheel pants are easy to remove for servicing the brakes and tyres.
---
 Photo Gallery
Click on image to enlarge
---
REMOS GX
The Remos GX; although relatively new to the American Market (2006), has been a leader in the light sport aircraft category for more then 10 years in the European Market.  In the late 1980's there was a necessity in Europe for a quieter and more economical alternative to the aircraft that were being used.  With this necessity in place the engineers at Remos went to work.  In 1997 Remos answered the call with the first line of Remos Aircraft; The Remos G3.  The G3 served as the test bed from which would come the Remos GX.  With all of the great qualities that the G3 offered along with a few improvements the GX developed into an aircraft that to this day is unrivaled in the light sport category.
Though the Remos GX conforms to the standards of the Light Sport Aircraft Category it is by no means any less of an aircraft than its bigger brothers.  Everyone that flies the Remos GX comments on how robust of an aircraft it is.  They also rate the Remos GX high on handling characteristics, performance capabilities, as well as overall ease of use.
It's no wonder that more people choose the Remos GX over any other light sport aircraft when it comes time to buy.  Below are the performance specifications for your convenience.  However, seeing is believing!  If you're interested in the Remos GX and would like to see for yourself, just what this aircraft has to offer.
REMOS GX Dimensions & V Speeds
Dimensions                                                  V  Speeds
| | | | | |
| --- | --- | --- | --- | --- |
| Wingspan | 30'8"                          | VA | | 108 Mph/94 Kts |
|  Length | 21' 4" | VAPP | | 75  Mph/ 65Kts |
| Height | 7' 6" | VNO | | 123 Mph / 107Kts |
| Wing Area | 118 sqft | VFE | | 44-81 Mph/ 38-70Kts |
| Cockpit Width | 3' 11″ |  VH | |  137 Mph/ 119Kts |
| Gear Width | 6′ 9″ |  VNE | |  155Mph / 134Kts |
| Useable Fuel | 21 gals (US) | VREF | |  57 Mph/ 49Kts |
| Fuel Capacity | 22 gals (US) |  VSO | |  44 Mph/ 38Kts |
| Empty Weight | 670 lbs |  VS | |  51 Mph/ 44Kts |
| Max T/O Weight | 1,320 lbs |  VY | |  85-88Mph/73-76Kts |
*Refer POH for aircraft data
Power Plant – Rotax 912 ULS 100HP
The Remos GX is equipped with the ROTAX 912ULS engine with 74 kW / 100 HP, together with the proven NEUFORM 3-blade composite propeller and the full comfort package, the REMOS GXNXT / GXnXES simply is great fun to fly.
Rotax 912 series, 100 hp engine offers more power while keeping the low weight. This engine has a TBO "time between overhauls" of 2.000 hrs and the best power to weight ratio in its class. It is the best selling 4-stroke engine for aviation.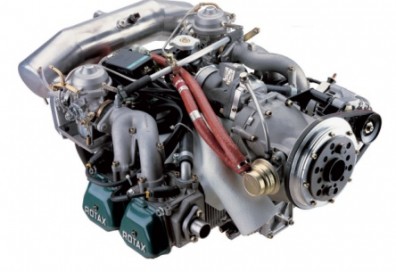 Rotax 912 ULS Facts
4-cylinder, Boxer configuration
4-stroke liquid/air-cooled engine – opposed cylinders
Liquid cooled cylinder heads with integrated pump and expansion tank
8 valves, automatic adjustment with hydraulic valve tappet
Dry sump forced lubrication with separate oil tank
Mechanically driven diaphragm fuel pump
Twin Bing Constant Depression (CD) carburetors
Air intake system
Propeller speed reduction unit Integrated reduction gearbox, 2.43:1 with slipper clutch.
Dual Capacitor Discharge Ignition (DCDI) with RFI noise suppression
Heavy duty Electric starter
Operates on automotive fuel- octane rating of 91 or 100LL (with additive)
---
 Video Gallery
---
 Remos History
The aircraft is marketed in the United States as a Light Sport Aircraft, and as an ultralight in most of Europe. It is a high-wing design, mostly using engines from the Rotax 912 family. It was developed from the similar Remos Gemini Ultra. The Mirage has the same layout, landing gear and structure but has a span reduced by 1.00 m (3 ft 3 in), is 170 mm ( 6.7 in) longer and is 34 kg (75 lb) heavier. The Mirage also adds an elevator trim tab and electrical flap operation. The Gemini's standard two-stroke 48 kW (64 hp) Rotax 582 engine was replaced in the Mirage by a 60 kW (80 hp) four-stroke Rotax 912UL.
The wings of the G3 Mirage have a constant chord centre section with straight tapered outer panels. The inboard sections carry electrically operated flaps. There is a single lift strut on each side, attached to the lower fuselage. Behind the cabin the fuselage is slender and carries a low set, straight tapered tailplane with horn balanced elevators. The fin and rudder are straight edged and sharply tapered, the latter horn balanced and ending at the top of the fuselage. There is a small underfin. The GX version introduced a long, integrated dorsal fin. The G3 Mirage has a tricycle undercarriage with cantilever legs mounted to the fuselage and with faired wheels. The Remos is somewhat unique among modern certificated/LSA aircraft in that it can be flown with the doors removed.
The prototype and most production Mirages have been powered by 80 hp or 100 hp variants of the Rotax 912 flat four engine. The Mirage RS/L version had a Jabiru 2200 and one aircraft (D-MPCJ) had a two cylinder, 72 hp Swiss Auto SAB 430 turbocharged car engine, which saved 30 kg (66 lb).
The G3 Mirage first flew on 20 September 1997 with the lower powered Rotax. The first production aircraft also used this engine but had some small horizontal control surface modifications plus the addition of a horn balance to the rudder.
The GX has been the current production model since 2006 and features folding wings and monocoque carbon fiber construction. Its wing has a different airfoil than the G3, improving roll rate and giving better penetration of turbulence. The GX is fitted with either a Junkers or BRS ballistic parachute recovery system. The GX2009 was introduced at the Sebring Expo. There were improvements to the instrument panel and interior and a new Chromoly steel tube landing gear, which replaced the earlier composite undercarriage, is retrofittable to older models.
Variants Developed
G3 Mirage: First production version with 60 kW (80 hp) Rotax 912 engine, 1999
G3 Mirage S: 74.6 kW (100 hp) Rotax 912 ULS engine, 1999
G3 Mirage RS: Changes to rudder and undercarriage, roof window added, 2001
G3 Mirage RS/L: 64 kW (85 hp) Jaibiru A engine, lightened by 10 kg (22 lb), 2003
G3 Mirage ARF: Kit built, Almost Ready to Fly, 2003
G3/600: Changes to take advantage of the increased ultra light maximum takeoff weight (472.5 kg, 1,042 lb) allowed by 2003 regulations, 2004
G3 RaLi: Marketed by Jordanian Aerospace Industries 2004-6
GX: Introduced in 2006, with new carbon fibre wing; more integrated fuselage with dorsal fin and more storage space; ground adjustable pitch propeller
GX eLite: Version lightened by 20 kg (44 lb) with an empty weight of 286 kg (631 lb) and a gross weight of 472.5 kg (1,042 lb). The standard engine available is the 80 hp (60 kW) Rotax 912UL.
Please give us a call, 855-LSA-West( 855-572 9378) and we can get you set up on a demonstration flight.