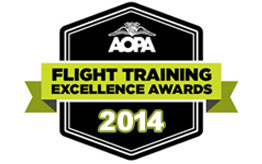 2013 & 2014 !!! JetEXE aviation team is excited and thankful to our customers, to announce that we have won the AOPA Flight Training Excellence, honor-roll award for the second time in a row, 2013 & 2014. Out of 1542 schools, 60 schools in the country where awarded the honor roll for excellence and training.
This award is based on multiple criteria, such as, flight school environment, quality of instructors, quality of airplanes, quality of training programs and most of all the quality of pilots having trained at the Academy. The students feedback to AOPA had the highest importance in determining the winners.
We sincerely thank all our students for their efforts, their dedication and excellent feedback given on our behalf.